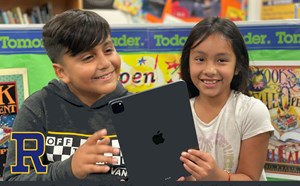 Riverdale Tech Academy has been recognized as an Apple Distinguished School for its innovative use of the iPad in the classroom and at home. Riverdale has implemented its 1:1 iPad program in which every student, transitional kindergarten through sixth grade, has an iPad to use at school and home to enhance learning. All teachers have attended professional development and are certified as Apple Teachers. In the classroom, teachers create a learning environment where students feel comfortable showcasing their learning creativity. The iPad is used daily by students to create presentations, publish electronic books, produce movies, design posters, learn to code, and create a weekly news broadcast called Riverdale News. At home, students extend their learning with the iPad with projects that bring families together to learn. Riverdale's core values of being empowered, innovative, and inspired are the driving forces behind our use of technology.
Principal's Message
Dear Riverdale Tech Parents,
On behalf of the staff at Riverdale, I wanted to welcome you to the 2023-2024 school year!  I am excited and humbled to be a part of this community and to join such a dedicated and professional group of teachers and support staff. I know together we will continue to accomplish great things for our students.
This year we will continue our focus on our District Strategic Plan: Academic Skills + Personal Skills = Lifelong Success! Our academic program is rigorous, engaging, and aligned to the state standards. The teachers at Riverdale utilize research-based strategies to develop critical thinking skills and to help students develop scholarly habits. In addition, we are committed to 21st Century Learning and a primary vehicle for this will be through our partnership with Apple. Over the past few years, Riverdale staff has worked hard to implement the use of technology to greatly enhance the academic experience of students and to earn the title of being an Apple Distinguished school. This work will continue this school year!
The past few years have been really challenging for our community and therefore it will remain a priority at Riverdale to support the socio-emotional needs of our students and families. This year, we will continue to provide counseling supports on our campus for students that may require assistance coping with difficult situations.
I look forward to working together with students, staff, and parents to continue providing the educational experience possible. Thank you for your continued support of Riverdale and its programs. If you have any questions or concerns, please contact me at 714-663-6563.
Sincerely,
Jason Shabet
Principal
Riverdale Tech Academy
Website: http://riverdale.ggusd.us
Facebook: www.facebook.com/RiverdaleGGUSD
Twitter: www.twitter.com/RiverdaleGGUSD
Instagram: www.instagram.com/RiverdaleGGUSD
Our School
The team of dedicated and talented teachers and staff at Riverdale Tech Academy are committed to preparing all students to be successful and responsible citizens who contribute and thrive in a diverse society.  To ensure success we provide a rigorous and supportive academic experience that motivates all learners to meet high expectations.
We recognizing that students learn in different ways. 1:1 technology makes it possible for our teachers to differentiate using a variety of teaching methods. Our objective is to put a tool into the hands of every student that will make their education more engaging, and positively transform the way teaching and learning takes place. 
The arts are also an essential part of educating students. Riverdale is very proud to be one of only 12 schools in Orange County to be part of the Disney Musical in Schools program.  Each year teachers and students proudly produce a Disney musical. The program not only teaches the students how to sing and dance together, but brings the school community together to help with the production. We hope you can join us for the performance in the spring.
Every day we teach and reinforce the skills that are necessary for academic achievement and preparing our students not only for Intermediate school but for college and beyond.  Each year sixth grade students participate in the College and Career Mentoring Program.  This program is led by former Riverdale students that are currently attending college.  These college mentors teach with the purpose of helping students develop skills necessary to be successful in school and share their college experience.
These are only a few of the wonderful programs that we provide at Riverdale.  We encourage you to get involved in your child's education by taking an active interest in their learning and volunteering on campus through classroom activities, parent education, fundraisers, PTA, and other school events.